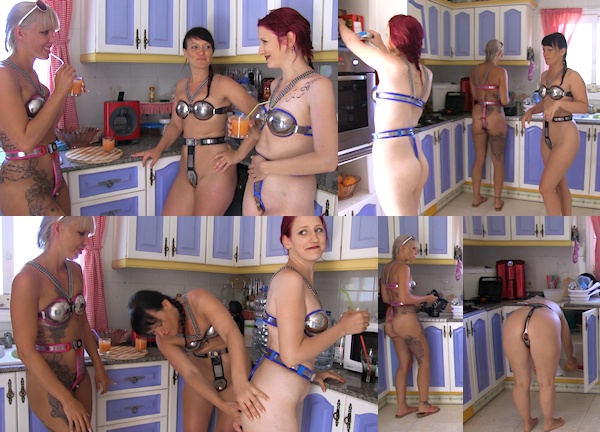 The girls really didn't have much of a holiday actually… Except from the rare moment by the swimming pool and a castle walk, they had to do chores and work very hard to get their free holiday in Spain with this landlord. And then I showed up with my chastity belts and bras… I almost felt sorry for them.
But Yvette Costeau (black chastity), Lillian Caine (pink chastity), and Rija Mae (blue chastity) seemed to be in exceptionally good spirits! Even when they had to clean the kitchen and do the dishes, they were smiling and chatting all the time. Yvette and Lillian were even joking Rija (the youngest) around a little, refusing to help her to store the shopping items, and teasing her about her later release time.
You see, when I arrived, I belted Yvette and Lillian in black and pink, and on that first day we went to see a Spanish castle (this update will be posted soon, it is amazing). But Rija Mae's plane did not arrive until the end of that afternoon, so she was belted almost 8 hours later. That is why you can hear Yvette and Lillian teasing her that they will be out soon and Rija will have to endure another 8 hours when they are already released!
A lot of you understand German, so this will be a nice update, you can hear them talk about the castle walk (in chastity), and their experiences sleeping in the bras. If any German members can provide an SRT subtitle file, that would be great! Just let me know!