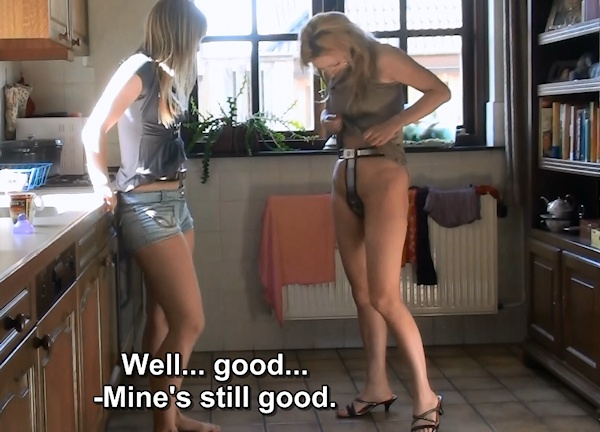 THIS UPDATE WAS SHOT ON DAY 3 OF THIS DEAL
This angle is really interesting, it is a camera pointed toward the kitchen where the girls have to walk past getting their drinks, it actually shows a lot of walking around and some insightful conversations in the kitchen.
Deborah slept at her own place, but returned to Silvie (in the morning) to 'suffer together' as she put it. They took their first shower (together!) at Silvie's place and now they are hanging around in the kitchen. I will post the shower update later if people are interested, I'm not sure yet if the girls appreciate me posting topless scenes of them, I will have to contact them about that first.
Silvie is now wearing a very thin dress, you can see the belt right through it. Deborah is wearing Silvie's shorts, which are too small for her, making walking even more difficult than it already was for her. Deborah still thinks her belt is a lot tighter than Silvie's but in reality their body shapes are totally different, making chastity belt wear a lot easier for Silvie. Bad luck for poor Deborah, who didn't want to do this Chastity Deal in the first place.
Still 7 days to go, and the duo is already thinking about their release, worrying about what everyone will say about their suspicious tan lines when they go on holiday!
Dutch dialogue. English subtitles are included in the member download!