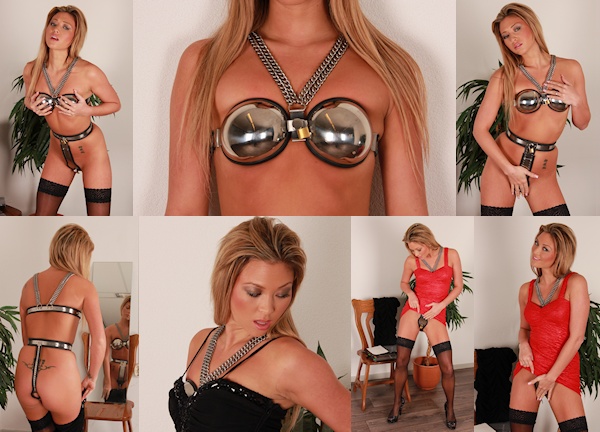 Natalia Forrest is definitely one of the girls in the running for the Golden Chastity Belt 2013! This UK glamour girl was looking for a place to stay while shooting in Holland, and somehow she ended up staying with us. Lots of times. She visits us very regularly, our apartment and studio are almost like her second home!
She knows she will be locked in a belt when she comes over to stay, all girls know that, but Natalia is staying here so often that she has gotten completely used to it. Coming into the door, she strips without saying a word, holding her arms up to accept us locking her into her very own rigid style belt. That belt is always here, waiting for her (although the original full chastity outfit from her challenge was sold to a fan, we have since replaced it).
Here's a very early update featuring Natalia. It was shot in March 2012, for a casting in bra and belt! Look at the super fit of the belt and especially the chastity bra! Natalia is probably our most natural looking girl in chastity! She tried on 2 dresses before walking out of the studio: she really wanted to wear the black one, but it did not cover the top of the bra cups, which looked a little odd. The red dress was perfect though! Wearing a chastity belt and bra during every stay in Holland? Not a problem for our top chastity girl Natalia!