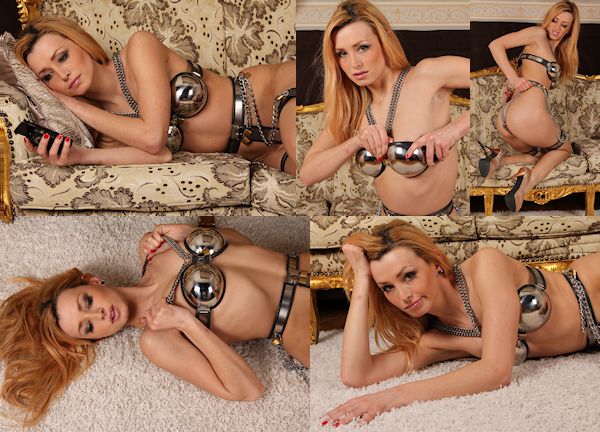 Your request for a little more fighting spirit in our updates has not gone unnoticed! There are some of you who'd love nothing more than to see hot girls in chastity, fighting and tugging all the time. The frustration and the unforgiving nature of metal are a big part of this fetish, and we will try to show more of that, although it does not really happen ALL the time in most Chastity Deals.
Our lovely resident model Dominique is not often seen in full chastity, that's because she only owns a custom belt and her mother thinks a belt is the most important part. Thigh bands and a chastity bra are rather impractical devices. But now we have taken Dominique in our care, we are free to add gear and challenges to her daily life, whenever we want! Yes, when she is working as our shoot assistant, Dominique is always belted, and often even in full chastity. Her main task is to make new girls feel at home and comfortable. Don't believe us? We will soon be making shoot visits available to members, allowing you to drop by our studio or locations when we shoot! You will have the opportunity to see for yourselves! Also, we are working on live feeds, for you to check on 24/7 Deals and see behind the scenes action!
We asked Dominique to try everything she could think of to get out of this full chastity gear, touch her boobs, or even break a chain. A monetary award was offered for any private part touched. After about a year in the belt, she instinctively goes for the bra and the thigh bands. She knows she can not break the belt, she tried that about a million times before! Check out the gorgeous picture set and the video to see if she can do it!