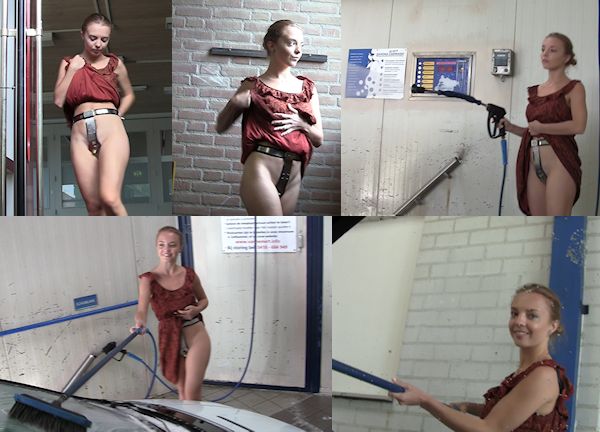 So after her little photo shoot, Alena was told to lock herself in a chastity belt and get ready to go outside. It turned out the photographer needed his car washed, and he was planning on letting tiny Alena do all the work.
Alena was told to flash her belt whenever she could, and she was visibly shy about lifting her dress to show the locked metal chastity belt she was wearing. After a short drive to the car wash, she was told to use all of the car wash program options, foam, rinse, wipe, and even more rinsing. The power washers are pretty hard to operate with 1 hand if you are a tiny girl and you are trying to flash your chastity belt with your other hand. Alena was still a bit nervous and she was wondering if she was doing a good enough job.
But after a while, you can see her beautiful smile appearing when she is clearly having fun power washing the car with the photographer inside it trying to get video of her belt. You wonder if she is going to spray him with water on purpose, but she doesn't. She is too nice for that (and he is holding a camera).
Car washing has never been so exciting! Another job that you can do in a chastity belt… there really are no excuses for girls not to wear a belt all the time! This site has shown almost all daily activities, sports, and challenges. Nothing is impossible in a chastity belt! Well, except for one thing, but that's good! Especially for young cute girls like Alena. She will be a lot more focused on her daily tasks, like washing the car!!