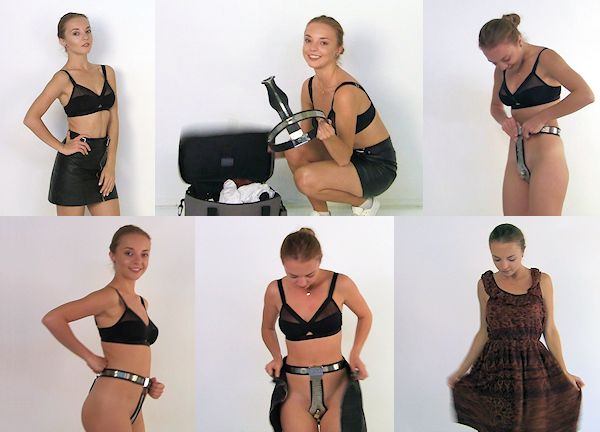 When a photographer friend told me about his upcoming shoot with Alena, I was suddenly very interested! This tiny young aspiring model from the Ukraine is super gorgeous! She seemed so cute, I really wanted to see her in a belt, but I knew she would never come to my studio for a Casting.
So I asked my friend if he could hide a belt in her bag while they were shooting, so she would find it when they were done. And film her reaction of course! The photographer did a great job putting her at ease during her shoot (in a cute skirt and bra) and when they were done taking pictures, Alena went and packed her bag. She did not even notice the belt at first, but then she took it out and looked very confused.
The photographer told her they would go outside after her shoot, and that she would have to wear the belt for a short time. Most girls would probably have laughed and said no, but Alena started to take off her skirt and panties right away. Maybe she is a submissive? Or she thought this is normal after a fashion shoot? Or a silly Dutch custom? Anyway, she locked herself into the belt and it looked great on her!
Alena put her skirt back on, but she seemed to realize the skirt/bra combination wasn't very appropriate for going outside. Although the belt was hidden completely under the skirt, not many girls walk around in bras in public. So she decided to wear a dress instead.
What a fun girl! 21 years old and she did not even protest or comment when she saw the belt! I can't wait to see the video of Alena going outside in this belt!