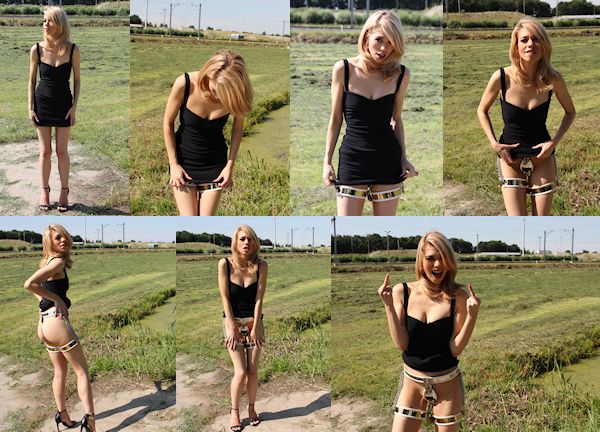 Remember Abigail's Casting? How perfect she was in the little white My-Steel hip belt with the gold thigh bands? I immediately told her she had to come back for a Chastity Deal! She looked so good in her white chastity gear!
Well, she has been back last weekend and as you may have noticed, the weather was absolutely great! A weekend Chastity Deal with this pretty girl and some sunny weather, it was a great time! Abigail was locked in the same gear she wore last July straight after arriving at my place, her tiny white My-Steel and a pair of gold thigh bands with white trim. I attached the thigh bands to the crotch of her belt so they would stay firmly in place. Abigail was wearing a little black dress and heels, not really suitable for going for a walk, but I just wanted her to go out in the sun in her gear!
Maybe I shouldn't have picked a field for her to walk in her high heels, but Abigail didn't seem to mind much. She was excited to be back, but a little unsure if she could do an entire weekend in this restricting gear. She realised she had to finish this Chastity Deal to get any prize money, so she tried to stay positive and did her best to get used to the belt and thigh bands. It's been a while since I did a Deal with thigh bands I think, and it is always fun to see a girl trying to adjust her way of walking and sitting.
With this beautiful weather and a girl in white chastity, it was a great weekend. I hope you will enjoy the gorgeous pics and video of Abigail, it's so nice the winter is over and I can take the girls outdoors again! Stay tuned for more updates from Abigail's weekend Deal!