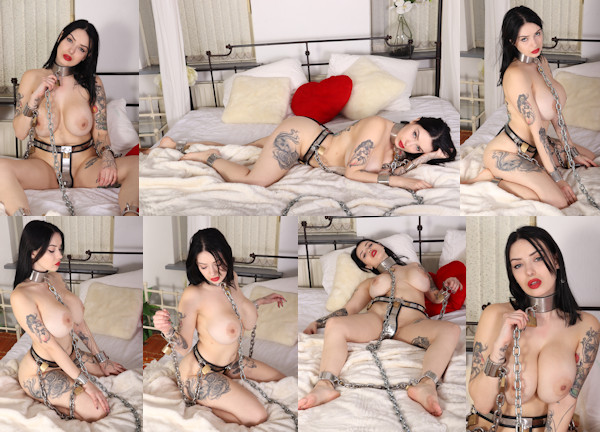 After a while, Ruby Alexia wanted to move to the bed to be more comfortable during her Casting. I didn't mind, I loved watching her move around with all of the metal gear locked onto her body.
I chained her collar to the bed with a heavy long chain, and Ruby tried to get comfortable. She seemed a bit restless at first, but she soon settled into the reality of being locked in steel. She is such a beautiful slave girl! I wish I could have kept her a bit longer. I will try to make her a good Chastity Deal during her next Holland visit, so I can have her around the house for a weekend or so.
Ruby Alexia really loved her Casting! She kept saying we should have done this years ago, which is a good sign. I think she is really into bondage and especially steel, so I have no doubt she will be back, because she will definitely start missing all of this gear back in the UK!!