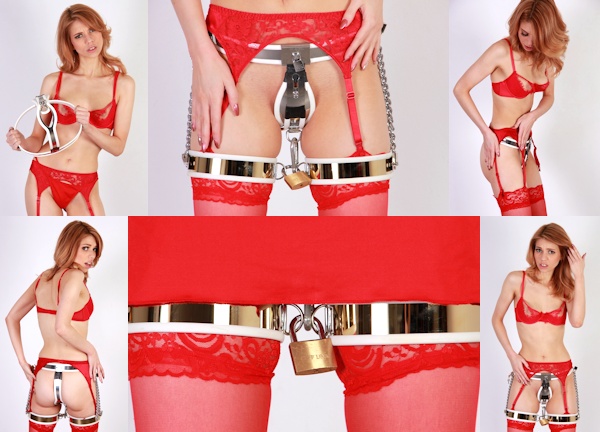 Gorgeous glamour girl Abigail wanted to come over from the UK because she heard there's money to be made with Chastity Deals! There's a lot of girls who write me, but not all of them actually show up to a Casting. Maybe they get nervous or they weren't so sure after all, but Abigail showed up and she is absolutely stunning in real life! Beautiful face, big eyes, very elegant, and extremely curious!
She is also very slender, so I had to find a very small hip style belt to avoid any bruises or marks on her hips (a waist belt would be pushing down very hard on her hip bones). Fortunately, I still have the small white My-Steel belt that was a perfect fit on her! Abigail said she would have preferred a red belt, but it's not about the color, it's about which belt is tight on her! She seems to like red a lot though, she was wearing red lingerie, red (amazing) high heels, and a red little dress. I think the white was a rather nice contrast with all this red!
I really felt she should be introduced to thigh bands right away, even already during this Casting. It just seems to go with her, I couldn't even imagine her without thigh bands. She loves dresses and skirts, so thigh bands will never be a problem for her. And I had some pretty nice ones lying around (gold ones with white lining). I locked her legs together with a big padlock and then snapped her thigh bands to her belt with a hook, so the thigh bands would stay in place perfectly.
She really looked like an angel! A chaste angel! Abigail is so pretty in chastity! I let her spend some time in the studio (as you can see in the video), just getting used to all this metal. She had a hard time sitting down and walking, but I think she will get used to it once I get her back for a weekend Chastity Deal! Because I really HAVE to get her back, she is just too gorgeous to walk around unbelted!