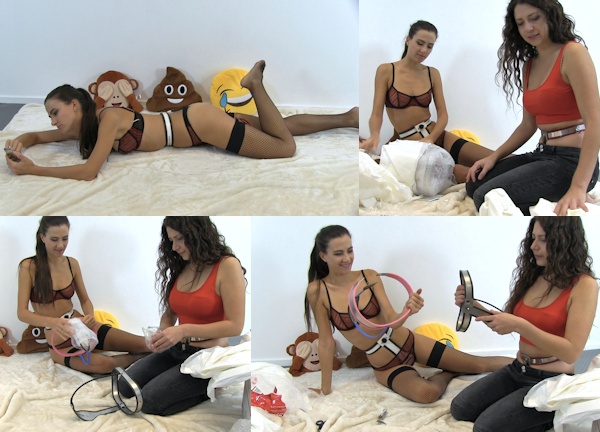 In a small Chastity Deal with the ever popular Lauren Crist, she was locked back into her tight NoSteel belt again. This belt contains (almost) no metal parts. It is a prototype developed for travelling through airport security, but the maker never got any further than just this one prototype. It is a perfect fit for slender tall Lauren, so I always belt her in it when she comes over.
Lauren is used to being belted in Holland, she is completely fine with it. She even loves to be in public with her belt (remember the legendary BoundCon Vienna promo team?). She was just relaxing in the studio, when the doorbell rang. My studio assistant Anahí (who is always locked in her red My-Steel when she works at the studio) told me there was a package. I completely forgot about that, but I immediately knew what it was. I had bought some left over prototypes from an American manufacturer who always makes innovative designs and locking systems. It would be interesting to see what they had come up with!
Anahí rushed past me, to Lauren, enthusiastically showing her the package. Together, they dug in and started to open and unwrap it. That was a lot of work, since it was very well packaged. After finding 2 chastity belts, they were curious about the locking systems and the shapes of the belt. The sizes seem to be pretty good, I hope I can use these belts any time soon. It was fun to see how much Anahí bonded with Lauren, I think they really like each other. Anahí is so nice when she takes care of the belted girls in my studio! It really gives them confidence to complete their Deals, seeing another girl who is always belted running around in the studio.