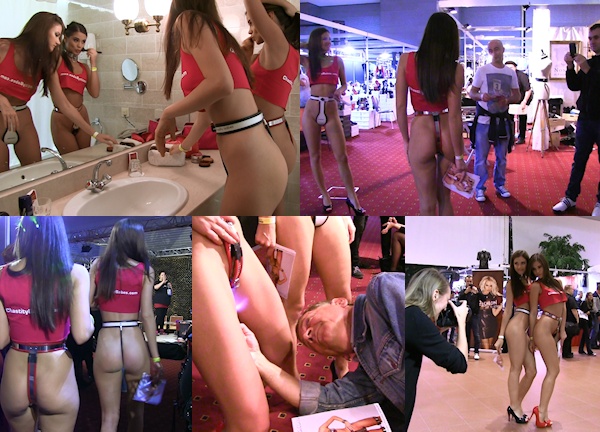 Last weekend, my big plan finally was revealed! I would be visiting BoundCon Austria (in Vienna) with my ChastityBabes.com promo team! You have already seen the shirt modelled by Vina, and I am sure you were curious who would be in my promo team!!
Well, I am glad to be able to report that it was a huge success and all FOUR girls that I had invited showed up! They are all ChastityBabes who have appeared on this site before, from 4 different countries, and it was great to see them together!! The first two who showed up were the incredibly hot Little Caprice and Lauren Crist! Of course, Lauren would be locked in the NoSteel, and Little Caprice was perfect for (Donna's) red My-Steel!! Of course, I locked them in collars and gave them the ChastityBabes.com promo shirts. They didn't know what to expect, and neither did I, we would be walking through huge numbers of convention visitors, while they girls would hand out flyers and I would film them.
We did not expect that there would be another (mainstream adult) convention going on, so there were thousands and thousands of people there! It was total madness! Almost everyone wanted their picture taken with the girls, and at some points we couldn't even move 5 meters in half an hour because of the amount of pictures being taken and questions being asked!!
Fortunately, there was a VIP area (with a pool and palm trees) where the girls could flee to if they wanted a break and a drink. It was awesome! We got a lot of interest in female chastity, many questions, met some of YOU, and did some good promo for this website! If you missed us at BoundCon Austria, don't worry. There will be more footage here soon (even crazier when the other 2 promo girls joined Caprice and Lauren), and we will definitely try to do this again in May 2016 at BoundCon Munich! Don't miss that one!!