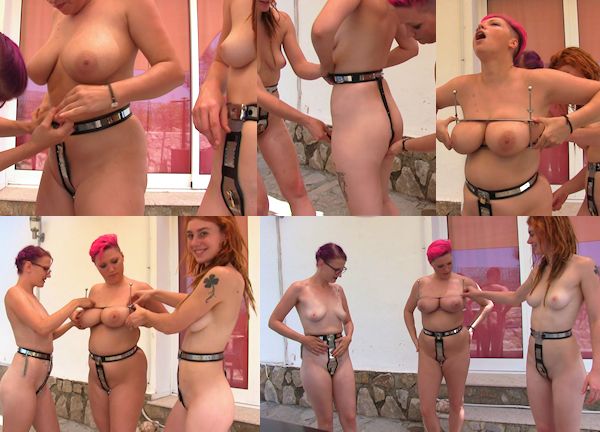 While I did not go to Spain this year (yet), the Spanish mansion owner still loves to continue my Chastity Deals over there. And lots of girls are writing him, asking to come over for a FREE holiday! A free holiday in Spain, beautiful weather, nice villa with a swimming pool, food, drinks, transportation, all you could wish for, and you can even take your friends!
Of course, the only catch is you will be locked in a chastity belt all the time. But some girls consider that a small price to pay. Rija Mae, for example, really wanted to come back after her holiday in the colorful belts in 2015. Sure, it was not just a holiday (the landlord requires the girls to cook and do laundry), but Rija loves it very much! She is a bondage girl, and Rija (with purple hair) asked if she could take her (submissive) girlfriends Nova Pink (with pink hair), and Muriel LaRoja (with red hair) to have some fun in the sun.
Now, I only left one belt at the Spanish mansion, but amazingly, the owner took it upon himself to buy two brand new belts! Nova and Muriel did not really know what they were in for until they signed the contract at the villa, but Rija ensured them they would be fine. First things first: the girls had to be locked in the belts. Rija still knew how to do this, and the belts were adjusted and resized to fit all three girls very tightly. They even resized Muriel's belt when it was a bit too loose! I like it when girls are strict with each other! To add to the fun, the girls decided to add a locking breast press to Nova's big boobs. It matches her belt, and Nova looked amazing wearing it. These girlfriends look so good running around the villa's garden completely naked in just their chastity belts, with their purple, pink, and red hair! I'm actually very sorry I wasn't there myself!
As you can probably see by the extra gear on the table, the landlord wasn't just going to lock them into chastity belts though! Stay tuned to find out what happened to these three German friends!