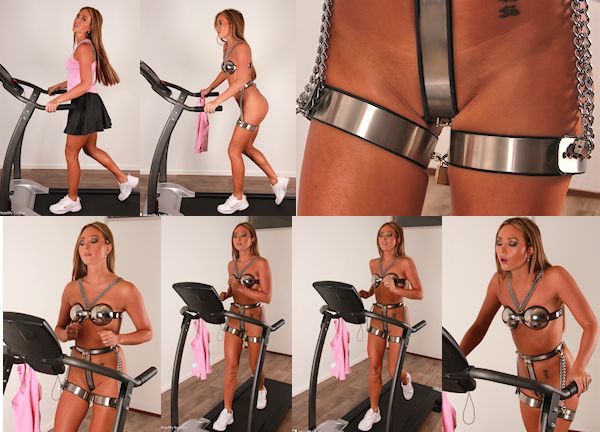 My dear friend Natalia Forrest was in Holland again. And even while she knows she will be belted, she still prefers to stay at the apartment, because it is free (plus free food and drinks). She is a tough one! So this time it was full chastity for her again, locking her thighs together as much as possible and always in bra and belt of course!
Natalia even made a report about staying in Holland. What it is like to stay over at the studio and the apartment, and how she got used to this Deal which seems so normal now. I will definitely share this funny insight video with you as soon as possible, because so many girls and women (and couples) are emailing me for a locked stay, and they want to know what will happen and what it is like!
But today, I will share with you this amazing video of Natalia on the treadmill, as she was determined to work out, even in full chastity. There should be no excuses for 24/7 female chastity, so I let her try, even though I was a little worried about her locked thighs. Natalia is crazy! She went all the way up to full speed after taking off all of her clothes… because she got really hot.
Full speed is about 10 kilometers per hour! Quite fast, even without any chastity gear! Watch Natalia run flat out in chastity, really breaking a sweat, and never let anyone (your girlfriend / wife) tell you that the chastity gear needs to come off for fitness! We have proven time after time that all exercising can be done in chastity, and we will continue to do so!!