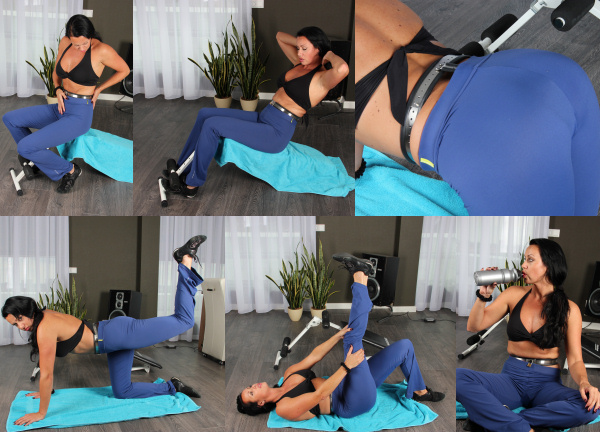 As a fitness model and fitness instructor, who has been belted by the curiosity of her husband, Irma has gained quite some attention from our members. To answer an important question right away: No, Irma is not belted 24/7. Her husband received a chastity belt from us (for free), and she has agreed to experiment with this lifestyle, but in no way it is her intention to be belted for longer periods.
Irma loves reading your feedback and receiving member requests. Ever since we mentioned she is a fitness model, members have been requesting an update featuring Irma working out. This is interesting, because Irma's chastity belt is a rigid model. Will she be able to do all of her exercises?
Her is her report:
Ab crunches on bench: easy, not painful between the legs as expected, but tight on the waist, lower body can not rotate, so exercise is actually harder (which is good)

Leg up (on all fours): super easy, no problems there, funny how my butt looks

Leg up (on my side): again, super easy, don't notice the belt at all

Ab crunch on floor: hard! the belt is very tight, but it is helping to prevent cheating on the exercise!

Floor bridge: lifting my butt off the floor is easy, although the belt tightens in the crotch area

Overall conclusion: it should be no problem for any woman to do these daily exercises in a chastity belt!!
Thanks, Irma! These are very useful findings,  let's hope more and more women will become convinced that a chastity belt is not an obstacle but an enrichment of an active (sexual) life!