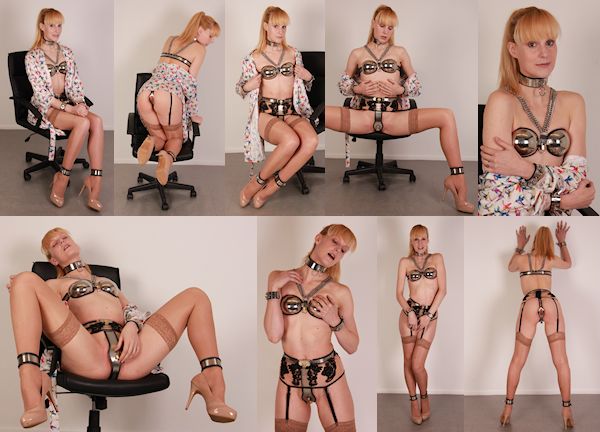 Quite a few members want to hear more models talk about their feelings and opinions while they are locked in a chastity belt. We have had some great talkies already (which is super since we are shooting models and local girls, not actresses), but we did not have an actual model telling the viewer (you) what it is like to be in a chastity belt.
When we were shooting Ariel Anderssen for MetalBondage.com recently, we had her in a full chastity outfit (minus thigh bands) for a whole day. This tall blonde bondage icon is a very experienced and confident woman, so during one of her breaks we sat her down for an interview for ChastityBabes.com. Well, not an actual interview, just Ariel telling the camera how she felt being locked in a tight belt and bra for a whole day. She is so lovely and honest, you will definitely like this update! There are no cuts or edits, just Ariel Anderssen talking about her true feelings. And a nice picture set to go with the video clip :D
Did you know that Ariel Anderssen contacted us herself about the opportunity to be locked into a chastity belt? You may not believe that, but it is true, you can ask her ;) She is very interested in all aspects of fetish and bondage, and she is an expert in many kinky fields, so she is the best model to ask for a chastity belt interview we can think of! And she speaks English, that helps too ;) If you like these kinds of updates (we know.. some will, some won't), just comment and we will try to do more with some of the more English-fluent models, or perhaps in German, since a big part of our members seem to be from Germany (grüßt euch!).