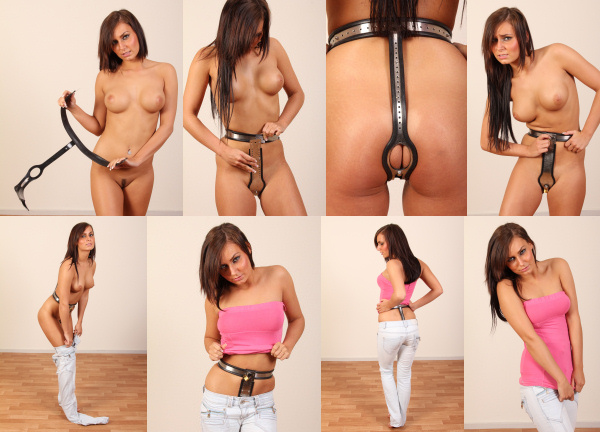 The first to respond to our casting call was Carie. This beautiful girl was belted for the first time in January for MetalBondage.com (see her updates over there). Apparently, she likes a challenge and she immediately reported for her try-out belting at ChastityBabes.com.
For this casting, we told Carie to strip naked and lock herself into a chastity belt. This belt was exactly fitted to her measurements. Once locked, there would be no escape or gratification without the key.
With all future castings, we will ask the girl to get fully dressed after putting on the belt, so they can imagine what it feels like to be belted in daily life. They are also given the opportunity to check if the belt is visible under their clothing. Carie was wearing a very low cut pair of jeans, so that was not a good choice. As Chastity Babe, she will be learning quickly that certain types of clothing are less appropriate than others. Pulling her top all the way down, Carie managed to hide the belt from view. She used an interesting technique: Carie wrinkled her top so the waist belt is less visible through her shirt.
Including this shoot and about 30 minutes afterwards, Carie was belted for a total of 1 hour. She felt a little embarrased, but also very excited.
What do you say? Can Carie become our first Chastity Babe? Should she be belted for longer periods? Maybe even overnight?