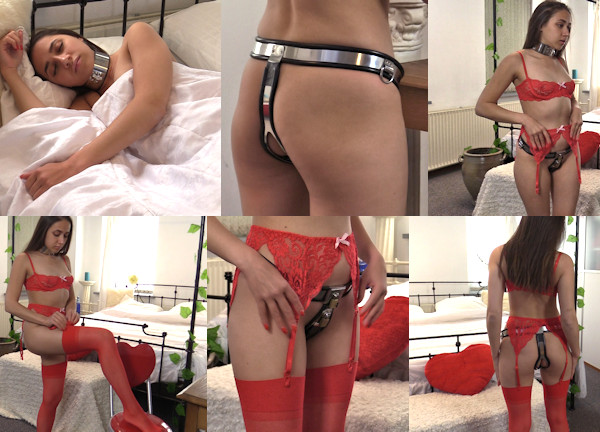 MetalBondage.com visitors will already have spotted the TINY Emilia from Ukraine. She is so cute! Emilia is very small, so she fits into one of my tiny My-Steel hip belts, and I put her in it every time she comes over. She has been back several times now, so she must like it!
It's not really a Casting session, because she has worn the belt before for MetalBondage.com, but I decided to keep her in the belt a bit long this time, to see if she would be up for a Chastity Deal in the future. She took a little nap and then put on this beautiful red lingerie.
I think Emilia is not really bothered at all by the belt, she seems very natural in her movements and still remains her bubbly self, with a lot of smiles. She was a little shy at first, but not anymore! Collared and belted, I think Emilia looks amazing in her red lingerie. Garter belts and chastity belts really work well together! I had a great afternoon with Emilia, stay tuned for more videos of what we got up to!