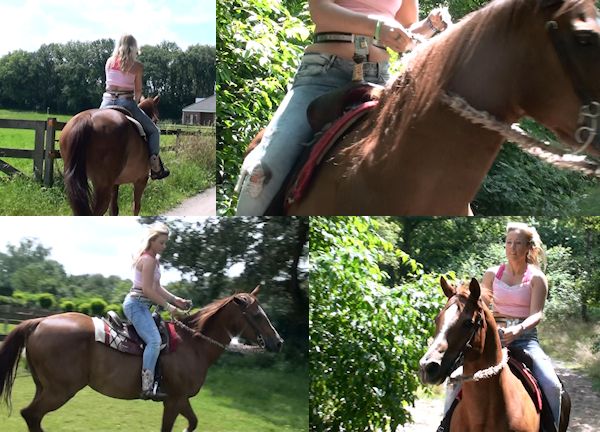 THIS UPDATE IS PART OF THE BELTED FOR CHARITY EVENT
As promised, we embarked on a mission to prove that all women in the world should and CAN be belted at all times. There's the usual excuses you hear, like: I can't hide it under clothes (proven wrong on this website), I can't move well in a chastity belt (again, proven wrong by us), and: I can't do all my hobbies and activities in a rigid steel device. Most often mentioned: horse riding!
Well here is Wendy, a champion in horse barrel racing (not just riding, but racing at very high speeds, and jumping too). She will get rid of the excuse that a girl can not ride in a chastity belt! Tell your girlfriends!! Or better, show your girlfriends!
In the morning of the 'Belted for Charity' event day, Wendy went for a long ride on her horse, showing off her skills, totally unhindered by the chastity belt, even though she is bouncing up and down in the saddle very hard. Full speed horse gallop? No problem for Wendy, firmly locked in a rigid style chastity belt. You'd think that the crotch part would bounce up and hurt her hips at the sides of the waist belt, but she said there was no problem at all!
Of course, Wendy is a pro. But you will see later that ALL girls who got belted that day rode without problems, even though some were inexperienced riders :) Stay tuned for more Wednesday 'Belted for Charity' updates, where we will meet the rest of the girls and have a closer look into their long locked up day!