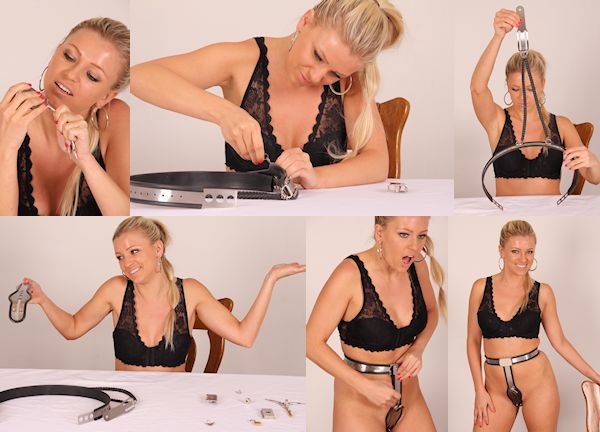 Meanwhile, over at MetalBondage.com, pretty blonde girl Brittany was convinced to do a shoot, something she has refused for a long time. The members over there immediately petitioned for her to be belted, so she was sent over here to be introduced to chastity belts.
Brittany did not even know what a chastity belt was, and when she saw hers lying on the table, she did not really know what to do with it at first. So she started to take it apart, spreading all the pieces out on the table, studying every detail with great interest.
This new belt is completely different than the ones we have used before. It is a high security chain style belt, and it has numerous improvements and advantages, like:
– a top quality cylinder lock from high security firm Bürgwachter, encased in a heavy metal locking block at the waist, making it impossible to use a boltcutter
– neoprene coated ass chains for better hygiene
– adjustable crotch shield with improved perforated secondary shield
We will try to implement this high security waist belt standard to our rigid belts too!
If you ever wanted to see a self belting update with a gorgeous first time girl, don't miss this one! Brittany is lovely, but reluctant, and it will take a lot of time for her to get used to being a Chastity Babe. Still, we have a good feeling about our newest girl AND our newest belt!