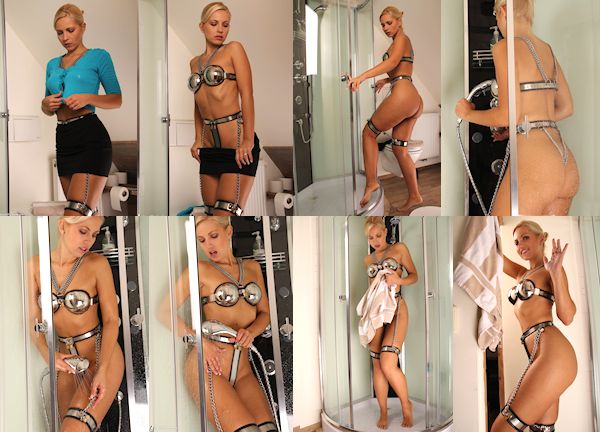 Even though there was only 1 night in Jenni's 36-hour challenge in full chastity, she insisted on having a shower. It would probably have been easier to wait until the 36 hours were over, but Jenni C is a girl who loves to stay clean!
Well, she managed to shower herself just a little, but it was not very satisfying. You can not learn how to shower yourself in full chastity in one day. It takes months of experience to find out how to keep yourself clean properly. But it is nice to see Jenni try! Our favorite moment: when she finds out she can not make the step to get into the shower (the edge is too high), because her upper legs are chained together. Funny!
We like these kinds of shoots, because even though we know Jenni C is doing this for the money, we have her locked for real, and we can admire and study her for a long time that is definitely worth the investment. Having a full chastity Jenni C rattling around for almost 2 days is priceless!!