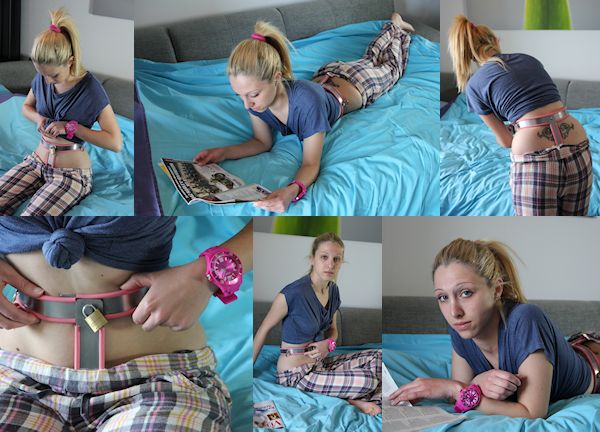 THIS UPDATE WAS SHOT ON DONNA DAY 18 (MAY 20th)
Okay, this is getting interesting! In addition to positive feedback from visitors and members, we are now also getting complaints about our chastity deal with Donna, the 20-year old blonde Italian girl who is staying in our Amsterdam accomodation in exchange for being belted for 30 days.
Women's rights organisations, concerned health workers, medical and psychology professionals, the list goes on. They all expressed great concern for Donna's health and rights. We can assure you that Donna is fine, safe, and healthy. She was belted in the month of May and has since then returned to Italy, unharmed and a happy girl.
Of course, when you are in a 30 day documentary, you are not going to be very cheerful ALL of the time. Like when members emailed us, curious to find out how Donna copes with the belt during toilet visits. We tried to document that too, but… well, just check this 10 second video (FREE DOWNLOAD). Not a very big success, so we did not pursue that angle any more.
Later that day though, when Donna had calmed down, we took pictures of her reading and wandering about the apartment. We left the static video camera running after taking the pictures, so we got a nice impression of Donna's afternoon on her 18th day in the pink chastity belt.
Please be sure to give your feedback, even if you usually don't comment, to show that you support us and Donna, and to explain to others that there's no harm in chastity deals! We want to do more (although we have not found anyone yet), so we may need some support and backup!
Remember the Donna updates are not shot in a studio so picture quality may vary. Member pictures and videos are not censored in any way.