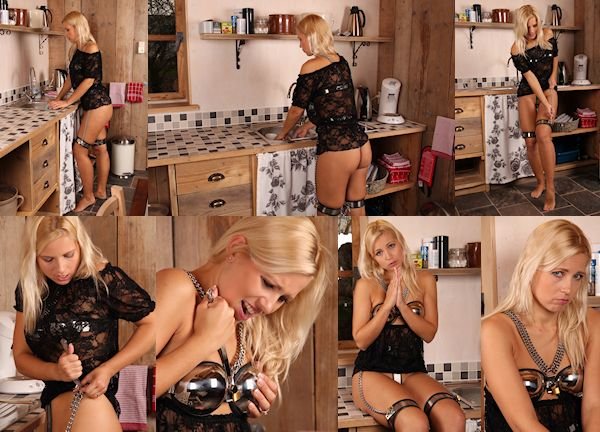 Jenni C finally found some time to spend in chastity. She was always very interested, but her job as a (very well known) glamour model did not allow much time to get a good chastity belt experience. She simply does not have any free time, and she can not show up at glamour shoots locked in a belt… as much as we would love that to happen :)
So when we had her over for 2 days, we wasted no time, locking her into a chastity belt, thigh bands and the new chastity bra, what some would call full chastity. This is how she actually spent 36 hours! The deal was that she could actually earn access to the keys before the two days were over, if she would be a good Chastity Babe, follow orders and be very obedient.
Of course, with Jenni C, you know that she will not be patient and obedient, she will try to escape anything! When we put her to work as our kitchen slave (locking her into a cupboard when she was not doing any work), Jenni was very submissive at first, trying to do her best to follow orders to earn early release. She did our dishes and cleaned the kitchen… but a kitchen contains all kind of tools for a curious and inventive Chasity Babe. A drawer full of knives and forks was too much temptation for Jenni C, she actually tries breaking the padlocks with a knife and picking them with a fork!
We quickly locked her back into her cupboard again, before any accidents happened. Jenni C would be in tight chastity for two days (so she had to spend a night in this gear too!), we will soon show you more of her adventures!