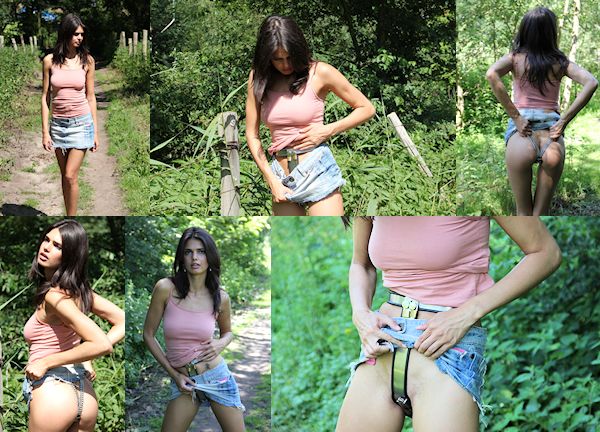 Yasmine is one of our Chastity Babes who actually likes the 'wondrous feeling' (as she describes it) of being belted from time to time. She was belted in a chain style chastity belt for a MetalBondage shoot in December, and we just loved the way her hips look, locked in steel.
Yasmine is one of the most beautiful and natural women we have ever seen. Submissive eyes, sultry lips, perfect grace. So we try to keep in touch with her and invite her for more and more beltings, to let her get used to it as much as possible. We have big plans for Yasmine! (longer terms, even a plug maybe!)
We have to take it one step at the time, and since she is only used to the chain style, we lock her into this belt again and take her for a walk! Yasmine is still amazed at the feeling of her pussy lips being trapped in the secondary shield, and the chains running between her ass cheeks. She just can't stop looking at it. Investigating and touching, Yasmine stops often to check the belt, lifting her cute little denim skirt, revealing this perfect protection. She feels safe and comfortable, you can tell!
It was a beautiful summer day, and Yasmine made it even hotter!