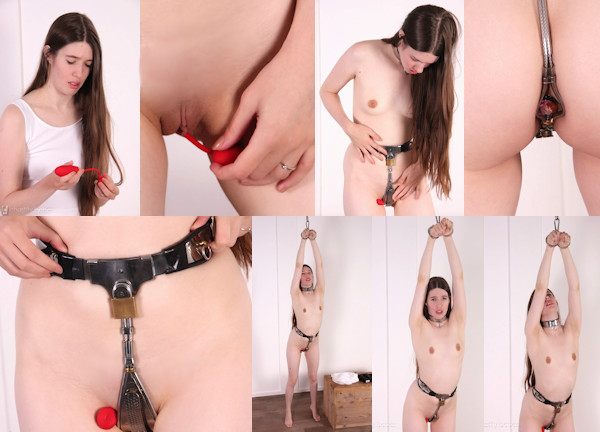 Remember precious Ivy Red, my Elven princess? She is so kinky! But also very shy. So I thought it would be a great idea to invite her back for an orgasm challenge to get her more used to chastity and being in front of the camera.
The first thing was to give her a nice jewel buttplug. She loved it! A collar too of course, can't be a Chastity Babe without a collar. Then she discovered the vibrating egg. She started playing with it and inserted it before I knew it. So I had a double plugged Ivy, with the vibe turned on inside her! That was easy. All I had to do is add a chastity belt so she couldn't remove the egg and she would be in for a nice orgasm session.
The FancySteel belt looks great on her! Of course, the control button of the vibe was sticking out, and this was a problem because she kept playing with it, turning it on and off and switching vibration modes. So I cuffed her hands to the ceiling. Now she was helpless, all she could do was enjoy the different modes of the vibrating egg. Ivy got all flustered and shy again. Can you count how many orgasms she had?