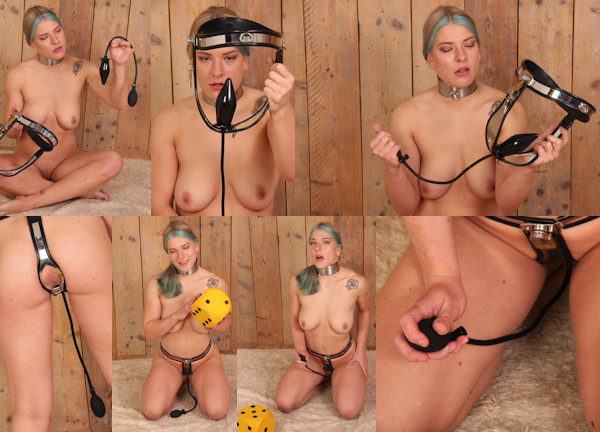 Remember the awesome Nora Sparkle? She did a Casting a long time ago, and I really wanted to get her back for more, since she was so open and friendly!
It took me a while, but I got her back to the studio for another round of the pump plug game! The rules are very simple, you can play this at home too! Insert a large inflatable plug in your belt (you can usually take off the hose to feed it through the plug slot of your belt). Roll a six-sided die. If you roll 1 to 5, that's the number of pumps you have to inflate the plug by, then roll again. If you roll a 6, you are allowed to deflate the plug completely. The problem is of course, if you don't roll a 6 for a while, your plug will get bigger and bigger and bigger. As Nora can tell you, that's VERY intense in a chastity belt, as the NeoSteel belt she is wearing is not moving at all. It makes everything tighter and you will feel very full, even at 3-4 pumps already.
Poor Nora didn't really roll a 6 very often. She was very stuffed and got super aroused. It was the biggest thing she ever had inside of her! Nora is definitely back now and available for custom videos!! She's so sweet and submissive!