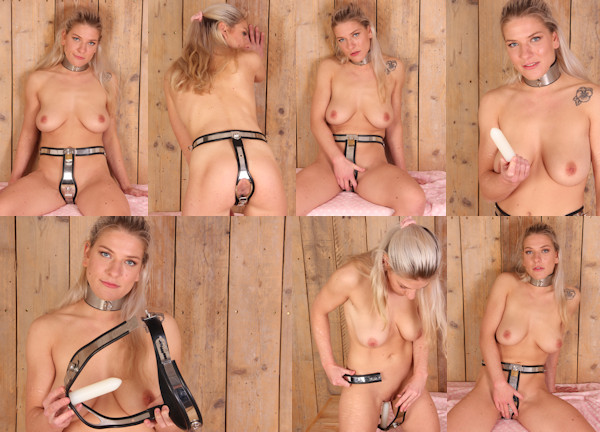 Blond hair, blue eyes! Nora Sparkle is a local girl who is very submissive and soft spoken, but VERY naughty! I invited her for a Casting and she was nude from the start, locked in a NeoSteel belt with a perfect fit! A big collar was on her neck, and I just left her there to get used to the metal for a while.
When I went to check up on her, she seemed absolutely fine and comfortable in the belt. I was very impressed, so I decided to take it up a little (even though it was only a Casting) and told her to wait there until I came back… with a surprise. I went and found the largest nylon NeoSteel plug and gave it to Nora. She seemed a bit shy, but I gave her the key to unlock the belt and told her to put the plug in the belt. It was indeed quite big!
Without hesitating, Nora slipped right back into the chastity belt. Yes, she literally slipped the belt back on, the plug went in so smoothly you won't believe it! Within seconds, she was locked again, now with a huge nylon plug inside her. Nora still seemed very comfortable, although she commented that she felt 'different' now. I think she is amazing! There is so much that can be done with girls who can be easily plugged! I'm excited I have found her, and she lives very close. Nora is of course available for custom videos too, and don't hold back: she will literally do ANYTHING you want to see in a custom video :D
Stay tuned for more Nora!