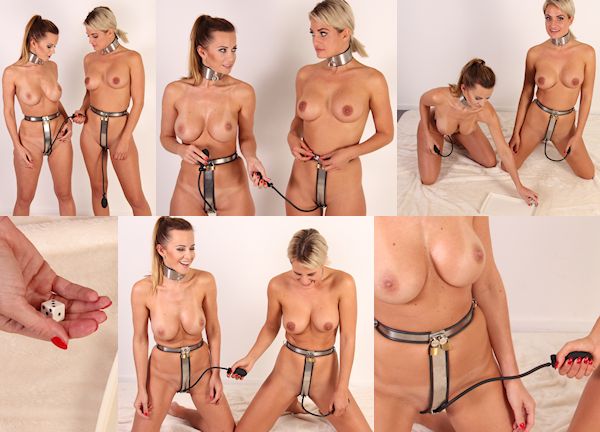 Many years ago, when the first FancySteel chastity belt was introduced, I had Cindy Dollar over to demonstrate this new belt for us. She was here only once, but I never forgot about this fun girl. She is up for anything! When she was visiting Holland recently with her friend Nicole Vice, I just had to invite them over to have some more chastity fun!
You may have seen the fun we had for MetalBondage.com, where they were both impaled on One Bar Prisons (check it out if you haven't). This gave me an idea. What about a new game with inflatable plugs, two girls competing against each other!
Here are the game rules:
– 2 girls are belted with inflatable vaginal plugs inside them
– each girl rolls a dice
– the girl who rolls the highest number gets to give the other girl 1 pump (inflating the other girl's dildo)
– roll the same number: nothing happens, both roll again
– roll a six: deflate your own plug all the way
This was so much fun! Mainly because poor Cindy NEVER threw a six, so she never got to deflate her plug, it just got bigger and bigger as she kept losing. Nicole rolled a higher number almost every time and even had a six so she could deflate her own plug. Poor Cindy Dollar got pumped more and more and more, until she reached the maximum volume of the plug dildo (which is huge!).
This is the best belted game ever on ChastityBabes.com (mainly because Cindy never rolled a six, which was hilarious), don't miss it! If you can think of any other game challenges for 2 belted girls to play, please comment below!