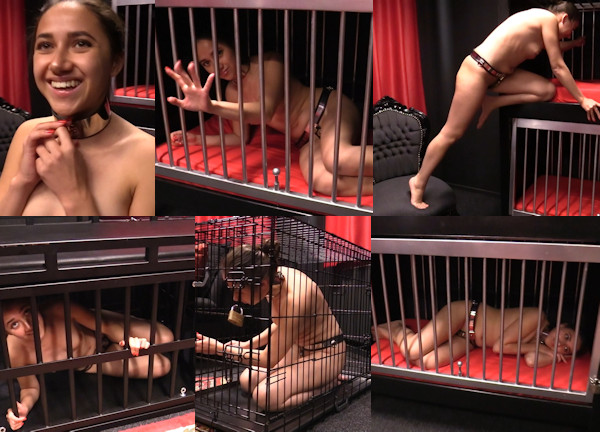 After belting tiny Emilia, we had about 4 hours for her to get used to the My-Steel hip belt, so we went to the black/red room in the studio where she was amazed by all the cages in there. I like Emilia a lot, she is so curious and open minded!
Naked except for her chastity belt and collar, Emilia looked at all the fetish furniture with her big eyes, she had never seen things like this before! I asked her to try some of the cages, to see which one she would like best. There was a stacked cage, with soft red mattresses. Emilia tried the bottom and the top cage. Then there was a heavy cage, which looked very big and comfortable. Emilia could lie down full length in the 2 meter long cage. Until I put in the cage divider, which meant she suddenly only had half the space! I threw the keys on the floor just outside the cage and Emilia managed to free herself.
The dog cage was last, it is the smallest and quite uncomfortable. I locked it, and the keys were out of reach this time. But I told Emilia there was a secret way to escape. Eventually she figured it out and free herself from this small bench.
Now Emilia had to pick one to take a nap in. Of course, she choose the comfy stacked cage. That's ok, she is so cute, she deserved a nice comfortable nap! I had so much fun with Emilia running around in her tiny hip belt, I can't wait to get her back for a longer Deal!