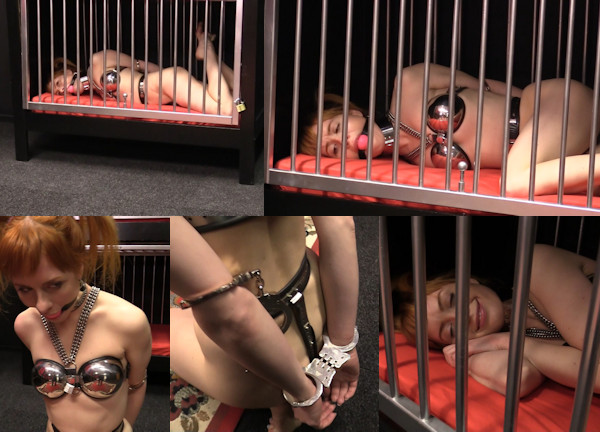 Polina's next Challenge was to sleep in the cage. But I made it VERY uncomfortable for her, as she requested. She loves hard challenges and even pain. Just being in the belt and bra and collar is much too easy for Polina in a Chastity Deal.
So I put standard handcuffs on her elbows. That's very hard, even though Polina is tiny, her elbows were pulled together and her wrists were in hinged cuffs behind her back. She was also gagged. For a long time, she tried to get comfortable in the small cage. Sleeping was not possible like this (and would be too dangerous), but she was struggling to find a good position. Her elbow bondage was very harsh, and Polina looked like she was giving up after about an hour.
I came to the rescue and uncuffed Polina, she did so well!! I thought it was time for her to really get some sleep, so the cuffs and ballgag were removed. Polina smiled, she was so proud she made this part of the Challenge. Now she was locked back into the cage, and it was so much more comfortable without the bondage. This is a great tip for you at home if your partner is complaining about the chastity gear: add something that is worse, then take it away again, and suddenly the chastity gear is not so bad!
Sleep well Polina!