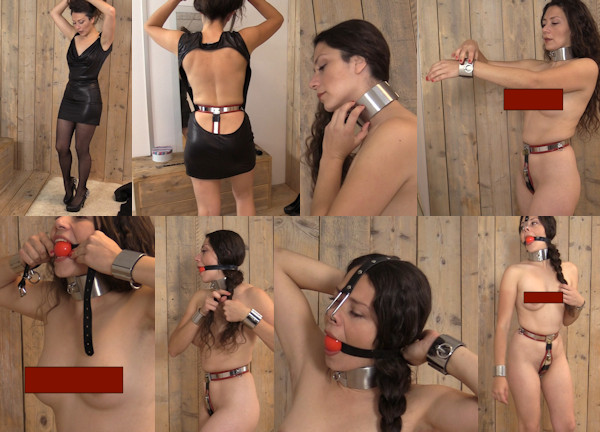 Some time ago, one of you requested a custom video with my studio assistant Anahi! It was very specific in script, outfit, and behavior, and Anahi thought it would be really fun to try to follow the script as closely as possible.
She walks in, dressed in high heels, pantyhose, and a sexy open-back outfit. She strips to reveal her trusty red My-Steel belt, and looks at herself in the mirror. She then locks herself into her 60mm tall custom made collar and her custom made wrists cuffs, completing her assistant outfit (nude in belt and collar and cuffs is her standard attire). But there's more!
She gags herself with a shiny red ball gag, and then braids her hair. She seems happy with the way she looks now, checking herself in the mirror again. There's one last thing she needs to add: a nose hook! Anahi manages to get this device strapped to her gag and she is finally ready to get to work! Walking around in her chastity gear, restraints, gag, and nose hook, she catches one last glimpse of herself in the mirror. Beautiful!!
(preview image is censored at her request, members get the uncensored video of course)