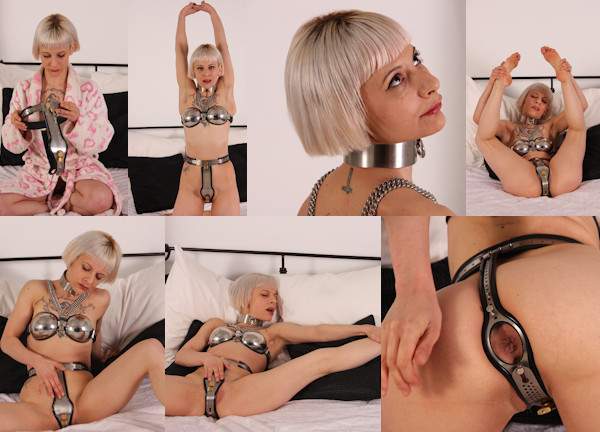 This fun burlesque dancer is Nina Grace from Spain, she is very awesome! Nina told me she is always horny and in touch with her body, so it would be incredibly challenging to wear anything that would limit her. I thought a Casting would be a great chance to see how she would deal with some tight metal locked onto her body!
Nina was nervously handling the belt and bra that were put out on the bed, and she couldn't even believe how heavy the 40mm SM-Factory collar was. Nina is quite tiny, so it would be a lot of steel for her! After a while, she decided to go for it. The belt and bra were adjusted to her size, so they were nice and tight and the anal opening was in the correct place. She looked amazing! Nina tried her flexibility but doing some dance moves, and tried bending over and various other positions. Some positions she assumed were very submissive! I think she has had BDSM experience before, even though she did not explicitly tell me anything.
Nina was very intrigued because she felt herself getting aroused already after a few minutes. She tried to rub herself through the secondary shield but she couldn't feel much. I think she got pretty wet down there, it is usually a sign that I can take a Casting one step further. Stay tuned to see if I did add a plug… after all, she DID say she wanted a challenge!!