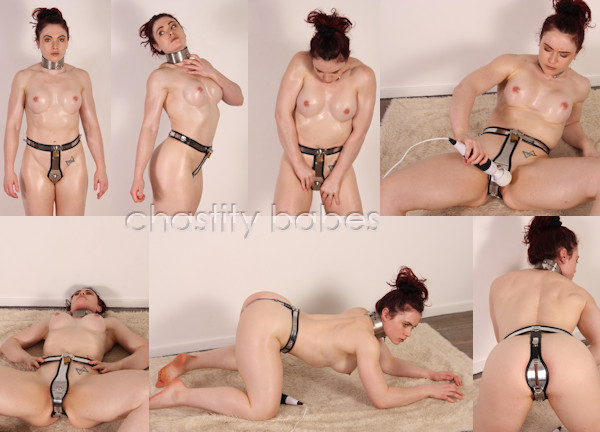 Wow, Alexis Luna is perfect for a test I have always wanted to do: can a really strong girl break a chastity belt? Belts should be safe for any girl, even really strong ones like Alexis. She is a bodybuilder and a fighter, and she is very muscular.
She was all oiled up and ready for her shoot in a chastity belt, but after the pictures she immediately wanted to take it off. I told her the Casting rules are always a minimum of 4 hours in the belt, like I explained to her before the shoot, but she apparently did not listen very well. Alexis was furious!
She got even more annoyed when I told her to 'just relax and the four hours would be over before you know it'. I left a magic wand next to her just to frustrate her a bit more. She reluctantly tried it, knowing it would not give her any pleasure. Turns out her favorite way to relax is using a magic wand! So you can imagine her anger, I was actually quite scared of her. She tried to break the steel with her bare hands, trying and trying again to bend or break the belt, but it wouldn't budge. NeoSteel belts are very high quality and very rigid. Even Alexis couldn't break it.
She would need a key to get out, but I said she would get it after 4 hours. She tried threatening me, begging me, and scaring me… I had to leave, because I almost got to the point where I would just give the key to her. I left a camera running and got out of the studio for a while. Alexis was raging, but there was nothing she could do about it. We might not see her back, but this was definitely worth it! A muscular girl stuck in a belt!!