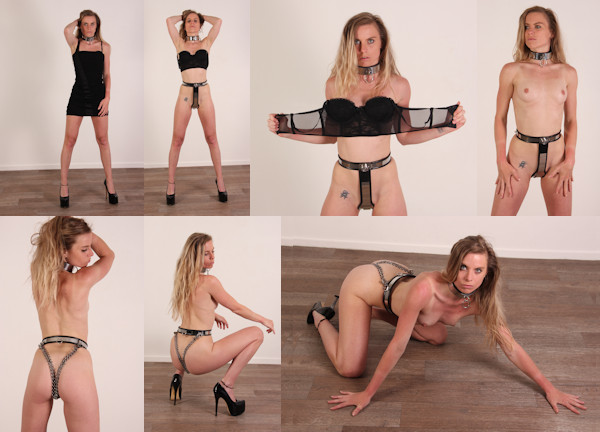 New girl Naomi Denise emailed me (FoToRo) because she was interested in bondage, especially metal, and receiving submissive training. She will shoot for sites such as MetalBondage.com and ShockChallenge.com as part of her challenge, but for this website I wasn't sure what to shoot with her. I locked her in a NeoSteel belt and a collar, while she ran around the studio looking at bondage gear.
I noticed she never took off her heels, and she was very good at walking in them, up the stairs, running, turning… I asked her where she got her high heels skills from. Naomi said she is a stripper and professional dancer! Well, of course, I needed to see this!
The idea of a stripper girl dancing and taking off her clothes, then revealing a belt to indicate she is still well protected and safe, that is a very cool visual! Naomi Denise is awesome, you can see her flexibility when she kneels, arching her back, in the perfect submissive pose. She sits like a proper slave! Without much training at all, she understands posture and positions already, and she is so eager to learn more!
Her eyes are so magical, and to see her toned body in this high quality steel belt, it's just a video you should not miss! Naomi Denise is VERY available for custom videos, she would love to learn more about bondage and do lots of challenges, so if you have any specific fantasies, just email me!