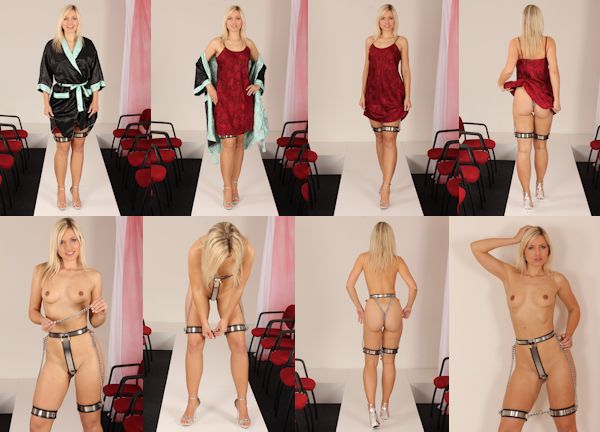 On of our most popular chastity babes, Jenni C, is always happy to model our belts for you. But modelling is not what we are after. Ultimately, we would like to keep Jenni C in chastity for a longer period. Sure, she did long shoots in a chastity belt, even spending the night, but she was always released within a day.
A perfect beauty like Jenni should be locked up for at least a week to start with, but she is a famous model and she has other modelling jobs, and it would not be very convenient to show up at a fashion shoot wearing a padlocked chastity belt with no keys. But someday, when she has time, we will present her with a nice contract and keep her locked for a challenging time period. A week? Two weeks?
Jenni is getting so used to our belts that it is absolutely no problem for her to move around. She does not seem to notice the belt anymore, even though it is very tight on her waist and her labia are pressed into the slot protected by the secondary shield.
Time for a nice catwalk show! Sit back and relax to watch Jenni C parade the catwalk in night wear, eventually chaining her thigh bands together to demonstrate that walking in thigh bands should not be a problem at all, if you are a trained fashion model. The top of the modelling world, in chastity belt and thigh bands, right here on ChastityBabes.com!