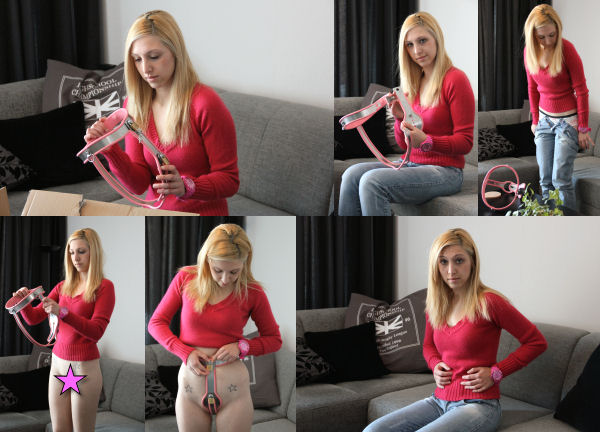 THIS UPDATE WAS SHOT ON DONNA DAY 1 (MAY 2nd)
Donna arrived in Amsterdam 2 days ago!! Even though she had visited Holland before (and met us to get measured), she was so nervous you will not believe it!
But there was no time to waste on long conversations, we wanted to get her into her belt as soon as possible, to make her fulfill her end of the deal for the maximum amount of time. We took her to the apartment she can stay in for 1 month, sat her down and told her to open the box that was waiting for her.
Remember Donna wanted a pink chastity belt? Well, we had one especially made for her, ergonomic waist band for comfort, rigid style with integrated secondary shield, 2 side D-rings (for later) and high quality padlocks. It is a work of art, and quite heavy as well. Donna will definitely feel this for the first few days.
Curiously, she opened the box and took out the belt. She inspected all parts of it, but she was hesitating and very very nervous. It actually took quite a lot of convincing to make her put it on and lock it onto herself. Donna is not a model and we think it is very brave of her to get undressed for this website. That is why we don't show this in the previews, only to members.
After the padlock clicked shut, Donna did not seem to realise what she just did. In fact, she did not seem to like us or even want to talk to us much, so it was hard to make her feel comfortable. We left her alone to get used to the belt for a while. When we came back to explain about the apartment, food, bed, and other practical things, Donna was very quiet. We think this is all a bit too much for the young blonde. What have we done? What has she done? We felt so sorry that we almost wanted to let her out again (but we didn't).
Donna has since warmed up a little. She spent 2 nights in the belt, and we will tell you all about that in future updates. She is still a little shy and quiet but she found some ways to talk to her friends on skype and that cheered her up.
This is turning out to be a lot harder than we expected! We made some nice footage of this first time belting (long video and lots of pictures) for our members, and we have made a lot more that will appear on the website soon. Remember the Donna updates are not shot in a studio so picture quality may vary.
Any feedback or requests for Donna will be appreciated, but PLEASE be nice to her and hold off on the sexual stuff for a while. Donna will read all comments!