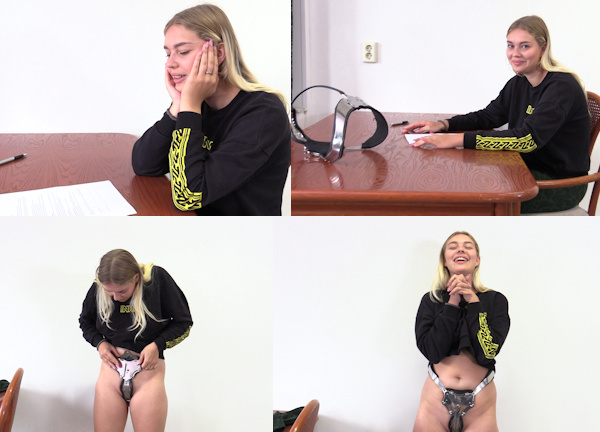 October 1st! The day you have all been waiting for! Many of you wanted to see who would take the Locktober Chastity Deal this year, and even more of you wanted Denise back after her awesome adventure last year.
Denise said she would never do it again, but I managed to convince her (yes, with money) to try it one more time. After a lot of doubt and discussion, she finally decided she would do it again. So today, she showed up in the studio to sign the contract and start her month in chastity! Exciting!
The Fetish Ironworks prototype belt she wore last year wasn't really suitable for long term wear, so I got her a comfortable custom sized Carrara belt with nice hip padding. It should be a lot easier to wear. The problem for Denise was never wearing the belt though, it was her own frustration and horniness that made it really hard. Her boyfriend was (and is) fine with her being locked up for a month, because Denise can still provide blowjobs so he is not complaining at all.
I locked her up and sent her home without the key. It's as simple as that! She can quit at any time she wants (but she won't get any prize money), she can come to the studio any time she wants a cleaning break, and she will have to give us daily reports. Do you think she will make it this year?