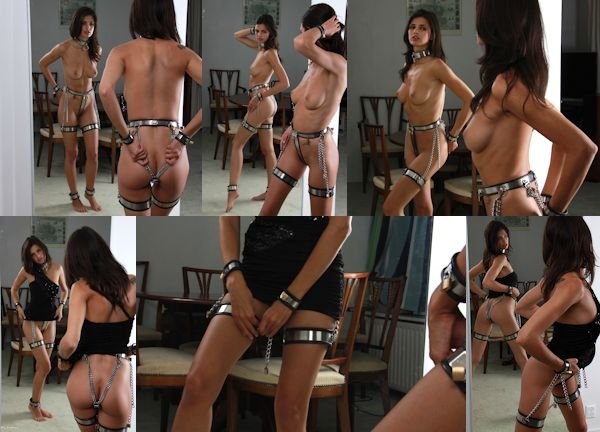 Being locked in a chastity belt was quite a shock for Yasmine last time. But after a while she got really used to it and she was walking around her house like nothing had changed. A few weeks later we received an email from her, asking if there was 'more'. It is always a good sign when girls want to experiment with chastity body metal!
We decided to go over to her place again and put her into 'more' chastity. Mind you, she is one of the world's most famous natural professional nude models (we can not reveal her real name, but you know her), so she looks great in anything we put on her. We lock her into the belt again, and we add the stylish collar, wrist cuffs and ankle cuffs. We also add thigh bands and that was very intriguing to Yasmine!
Since she was so curious about the thigh bands, we let her lock her own upper legs together using a short length of chain and two padlocks. Yasmine is in front of a huge mirror and it is fun to see how she is testing her thigh bands, walking up and down to see what kind of stride she can make. This girl is really into chastity, we will take her outside in a belt soon (when the weather is good) for her first outdoor experience!