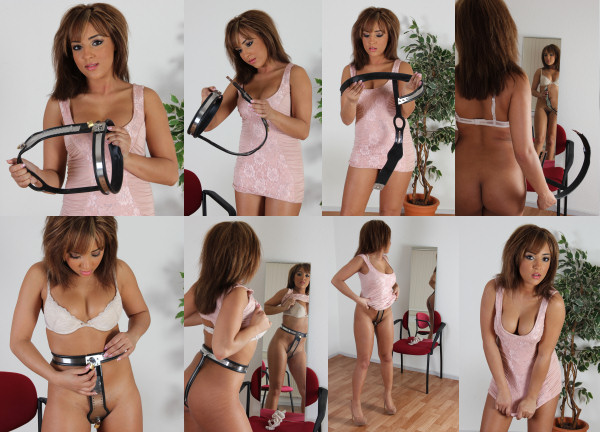 'Sure I want to be a model for you, but what's a chastity belt?', Kayla Louise replied to our email. The perfect answer! We invited her over immediately to take (a little) advantage of her ignorance. Maybe that wasn't nice, but we really wanted to show you a two-part series of a girl who is going to be belted longer than expected. Well, in this case: Kayla did not even expect to be belted at all!
Kayla Louise is a very tiny hot little girl from the UK. British members might know her from glamour publications! She looked very cute and a little posh in her short dress and very high heels.
The belt was already waiting for her on the chair. The pictures of Kayla studying the belt, seeing such a device for the very first time, are priceless. After a little hint, she manages to put the belt around her waist and between her legs. She does not even think twice when we tell her to put on the padlock protector and shut the padlock. Kayla poses in front of the mirror and puts her dress back on, it is a little too short so we can see the secondary shield and its padlock.
Kayla has not even realised yet what the belt is for, she thinks she is done with this shoot. But she will be surprised to learn that this was only a small part of her assignment!