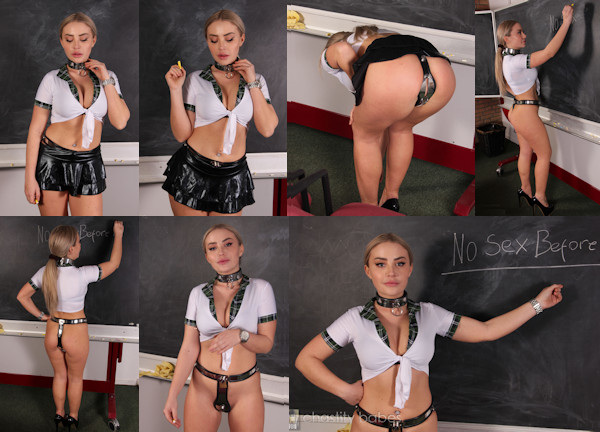 Wow, I said last time that Aubrey is available for more custom fantasy shoots and I got a number of requests very quickly! Thank you for that!
A member wanted to see Aubrey as a teacher, in a chastity belt of course, teaching people about 'no sex before marriage'. I think that's a very good idea! After all, that's what chastity belts are for, they can really help people to stay chaste until their wedding night! All young girls should be belted, like I always say, and Aubrey is here to teach you all about that!
Of course, it's not going to be easy to have pure thoughts when your teacher is literally one of the hottest girls on the planet AND she keeps dropping her chalk. Bending over to pick it up, revealing her super tight NeoSteel belt is going to be a problem for her male students. Let's hope they are all properly locked in their chastity cages!
Aubrey is the perfect teacher, she even takes off her skirt to demonstrate her chastity belt and how it should fit. Okay, her spelling might be a bit off, but she is a Sex Ed teacher, not an English teacher! And who cares about that anyway when Aubrey is prancing around in front of the black board in a NeoSteel that is ultra secure? This is the ultimate paradox! Maybe Sex Ed teachers should not be so beautiful and hot, it really sends the wrong message.
Aubrey is available for custom shoots or more member requests, just send me an email!