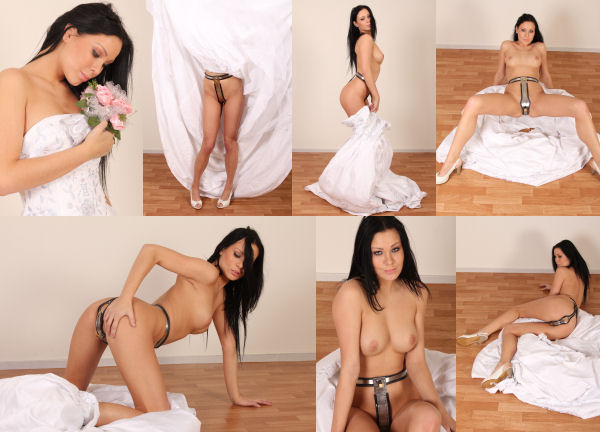 As requested: Alyssia as the perfect bride! A photo and video shoot with the beautiful and sensual Alyssia wearing a wedding gown (which she absolutely loves). Nothing underneath it, except a tight chastity belt. Because this is the ultimate symbol for chastity: a pure bride!
Keeping chaste until marriage is an age old wish for some people, but nowadays it is very hard to achieve with the sexualisation of society. A modern chastity belt will help more than ever to reach that ultimate goal. We encourage all couples who are looking for chastity until their wedding to get chastity belts, definitely one for the female, but the male partner can also participate of course. It will make that honeymoon night so much more special, it will be unbelievable!
Alyssia takes off her dress for you, just to show the belt to you. She is one of the most obedient and submissive girls we have ever seen, we definitely envy the guy she will eventually end up marrying! In the meantime, any other suggestion for Alyssia shoots are very welcome, we are sure she will be happy to fulfill your chastity belt fantasies!