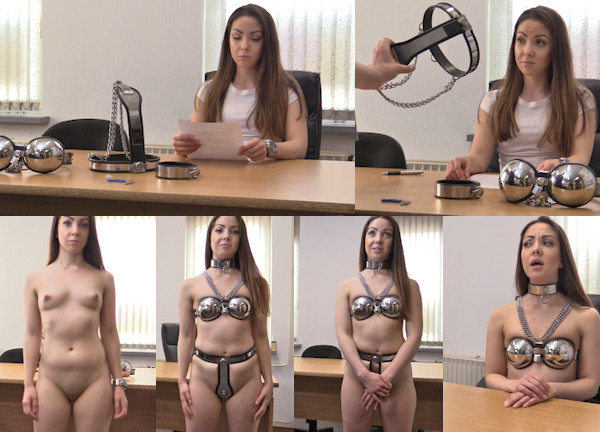 Tiny young Adele! Remember her? She was very shy when she did her Casting, but her 4 hours went by very quickly and she got used to the chastity belt faster than most girls, even though she was wearing a rather uncomfortable old prototype Carrara.
I really wanted to give her a Chastity Deal. Why? Because she reminds me so much of that other Italian young girl who once came over and never seemed to want to leave, even if it meant LIVING in a chastity belt for months. I really miss that time. Maybe Adele will be into chastity just as much? It's not just because she's also Italian, it's because she has a similar personality to Donna. Very soft spoken, shy, and you wouldn't expect her to be very determined, but she is! Adele is very easy going and she doesn't have much else going on in her life right now, which makes her the perfect girl to be able to sign long Deals.
Reading the contract in my studio, Adele didn't say much. In fact, it looked like she was going to get up and walk out the door. But to my surprise, she read the whole thing and said 'let's do it!'. This contract is for full chastity, so it is belt, bra, and collar from the start. That's not easy! How many days? Well, I will let members find out by watching the video. I don't want to give away too much, but it's going to be very interesting and of course, there's always the option of extending the Deal if Adele wants to make a bit more money.
I'm very happy to have a new Chastity Babe running around the house (and the studio). It's fun to chat with her, and she is becoming more and more used to her situation. She is already expecting more Challenges and bondage along the way, so let's see what she can do and if she will make it to the end of her contract!