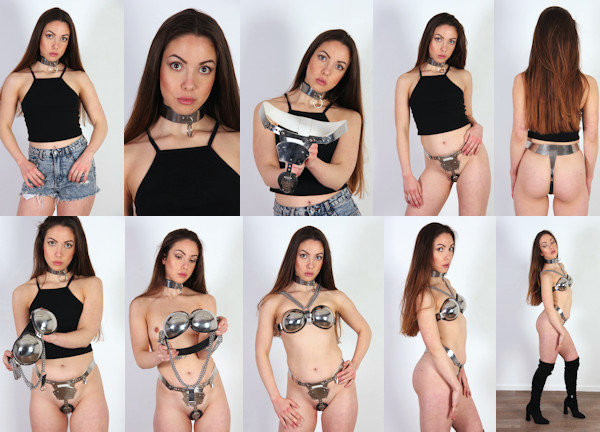 This young new girl is so adorable!! Adele is Italian, and she reminds me of the first Chastity Deals I made with Donna. Adele is very shy and quiet! Even though she signed up for this Casting herself, she seems to be very awkward on camera most of the time. It almost looks like it was a big shock to her when I locked her into a chastity belt, chastity bra, and collar! Well, that's what the website is about!
But don't be mistaken: just like with Donna, there is a hidden desire in Adele to be locked and give away control to her intimate body parts. It excites her, and her curiosity overcame her shyness, to the point where she just had to write me and ask if she could get locked for a Casting. I love these kind of girls, they are real girl-next-door types, genuinely curious about getting locked up. As you will agree when you're watching the video: Adele is definitely not a model, she's not acting or posing. But she certainly is beautiful and her awkwardness makes this Casting very interesting to watch!
In general, a Casting is 4 hours in a belt and collar. But I added a bra too because I wanted her to get used to full chastity as soon as possible. Adele couldn't stop looking at herself in the mirror. We had a great afternoon, and she really enjoyed her Casting. We even shot an update for MetalBondage.com while she was locked in chastity, because she looked lovely and I wanted to see if she could handle some additional restraints.
What a girl! I think I should offer her a Chastity Deal as soon as possible! What do you think? Could Adele be the next Donna?