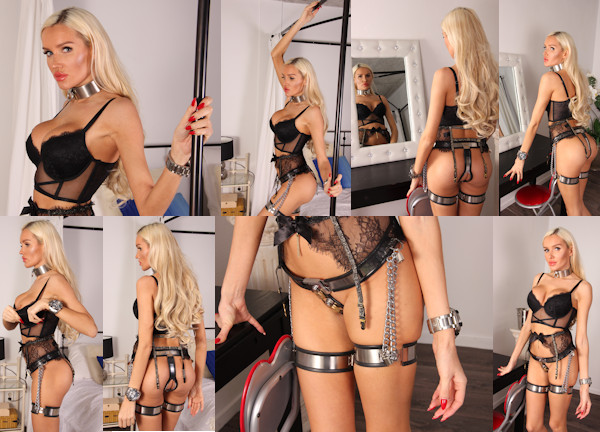 Tall and stern, Katia was probably the hardest girl ever to get into a belt. Once she was locked in her hip-style MySteel, she continued to look at me as if she wanted to kill me with her eyes… or perhaps even with her huge boobs! She's a dangerous one!
Heavy SM-Factory 40mm collar, locked chastity belt, and thigh bands, it all looked amazing on this Russian playmate. Katia was clearly not impressed, but I told her to go into the bedroom and put on her expensive lingerie. This gave her something to do, and for a moment she seemed to ignore me and go about her business of getting into this very complicated lingerie.
I think Katia secretly loved this shoot. She is just pretending she doesn't like it, because she doesn't want to admit it. It would diminish her strength. But seeing this tall slender model move around in locked metal in the bedroom, I couldn't care less about what Katia was really thinking. This is amazing, I don't think anyone will ever belt her again, but at least we have the pictures and videos to watch over and over!