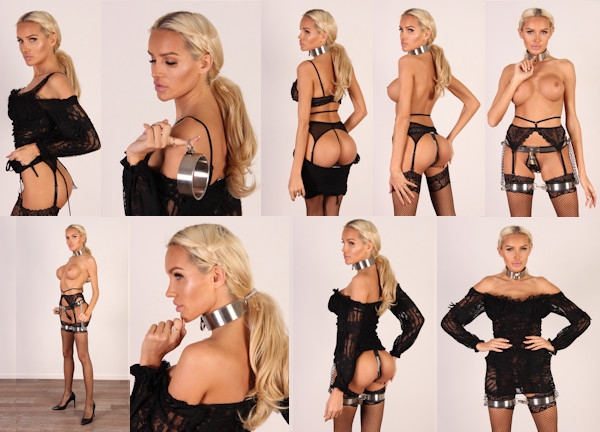 Straight out of a Bond movie: the incredible Russian doll Katia! She is not the type of girl you would expect to see on ChastityBabes.com, she would be the one to put YOU in chastity!! Katia is strict, very tough, and graceful. But of course, I thought her long legs and doll figure would look amazing with a bit more steel added.
So I invited her over to the studio for a Casting, and Katia said 'sure, why not'. She is so slender, I had to find one of my smallest My-Steel hip belts to get her securely locked up! A heavy 40mm SM-Factory collar was locked on her beautiful neck as well. Katia looked down at me, standing in her tall heels. She didn't care. I knew she was still in control, even though I held the keys to her belt and collar.
Katia scares me a little, to be honest. She is very direct and demanding. Still, I managed to get her belted, and I even added thigh bands. Katia actually was pretty curious if she could maintain her posture and grace walking in these restraints, but of course she could! Her movements are flawless. It's very strange to belt this kind of woman, but I think all women should be locked in steel, so even tall dominant Russian playmates should not skip their turn! I haven't been this scared since I belted Jenni C, but I did it!