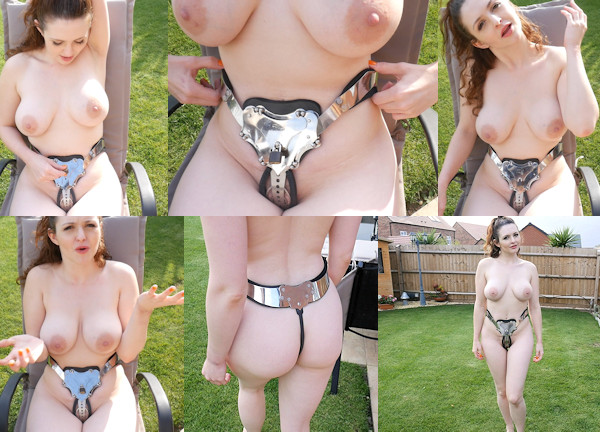 You know how I always try to get the best babes in the world locked in chastity? It's pretty amazing if you look at the model page, and I am always trying to add more girls! One of the best ideas I've had is to give my friend Natalia Forrest a few belts to use in her home country. Because Natalia (a stunning model herself) knows quite a few VERY beautiful girls over there!
As the weather was getting better, she invited one of her best friends Lizzie Bayliss to come to her house and sit in the garden. Before Lizzie realized what was going on, Natalia had her completely naked and locked in a Carrara belt!! Now that's how you should welcome a gorgeous girl! Lizzie was a bit taken aback, but she knows she is perfectly safe with Natalia. They have been friends for many many years. It also shows in the interview, Lizzie was much more relaxed than she would have been with me or any other 'producer'. It is just a nice chat between two girls!
Can we stop and stare at Lizzie's body in this belt for a minute though! I don't think I have ever seen a more perfect girl in this belt before! What a body, and what a great sweet personality Lizzie has! I definitely can't wait for restrictions to lift enough to get her over here for a Deal! This girl was born to be a Chastity Babe! I definitely wouldn't mind having her around the house for 48 hours in nothing but a belt! She is amazing! Enjoy this spring update with the lovely Natalia and Lizzie, it is something special and wonderful to watch!!