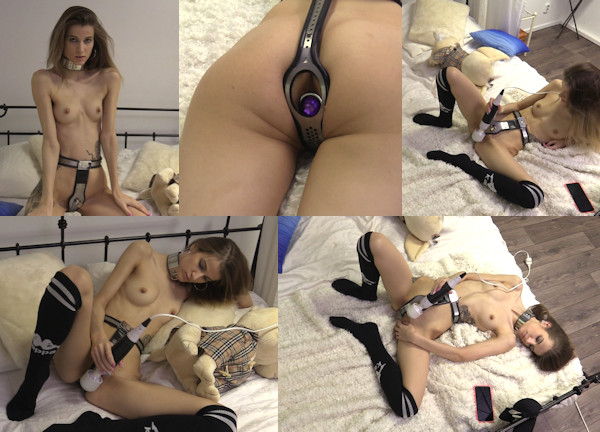 Dina Ket was going to spend her first four hours ever in a belt, and she was doing great! With her big purple buttplug inserted, she felt kind of aroused, but there was not much she could do about that.
I had placed a magic wand near the bed she was lounging on, but she scoffed at it when she came in. She tried to ignore it, and was busy with her phone, taking selfies like all girls who do a Casting for this website. I wonder, do these pictures go on their instagram? What are they taking pictures for?
After a while, Dina got quite bored and she finally grabbed the magic wand. She tried vibrating herself through the belt, but there was no sensation at all. She quickly gave up, but after a while the buttplug was still very much on her mind. She grabbed the wand again and tried the highest setting. Nothing. She was so frustrated!
Dina Ket is a perfect girl for a Chastity Deal. When she comes back I am going to double plug her for at least 48 hours. Then we will see some real frustration! I don't speak Dina's language and she doesn't speak English, but I am pretty sure frustration is the same in any language!