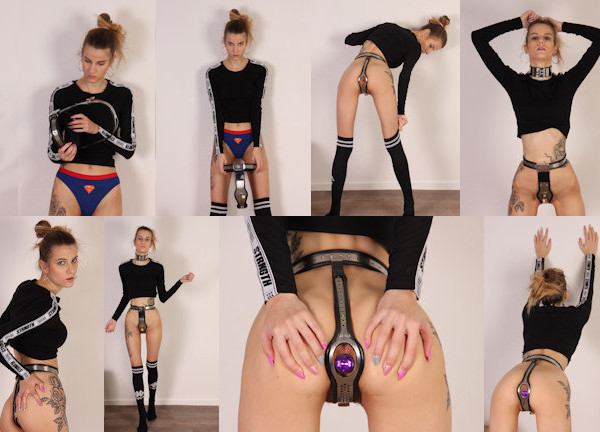 Curious teen Dina Ket was visiting Holland as she saw my Casting Call for this website. She was very intrigued! Dina is very open minded and she loves to be nude!
Well, for this Casting, she wouldn't exactly be nude, but it's great that she is open to all kinds of things, as I was planning to belt her with a big buttplug! In fact, Dina's body is so slender and tiny, I was afraid that the plug was going to be too much for her. She proved me wrong quite a few times that day. Wow, Dina is a good addition to ChastityBabes.com! She is fun, submissive, can take plugs, and she has an awesome body that just needs to be belted!
Even the collar looked huge on her! Dina was very curious about trying a belt. I had to resize it especially for her, and when I held it in my hand I couldn't believe she would fit in it. She has the tiniest waist ever. I was very impressed she could handle the large purple jewel buttplug, and then the chastity belt for a few hours. We had a language barrier, which was incredibly funny, because we used an app to communicate. Still, I think I got to know her a lot better than most girls, Dina is awesome! Stay tuned for more Dina adventures!