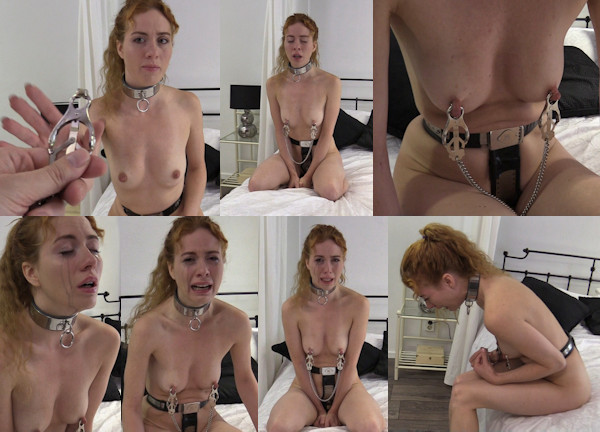 This is some footage from one of the Chastity Deals I did with Polina from Russia. I have never published it before, because it might be too harsh for some members and also for some girls who are looking at this website to see if they want to do a Chastity Deal.
But today, I decided to publish it anyway, just because I like Polina so much and she did so well in this Challenge. I really appreciate her submissiveness, and her ability to follow orders, even if she doesn't want to. She can deal with a lot of discomfort, and she does so in her own unique way. Please don't judge her (or me), this was all very much consensual and we had a good laugh together after the Chastity Deal.
But as you can see, Polina did not have a laugh at all DURING this Challenge. In fact, she cried a lot. Polina has ultra sensitive nipples. That's not her fault, but it makes it extra challenging to wear nipple clamps. Especially hard pinching clovers. She had 1 hour left to go in her Chastity Deal, when I went to check on her. She was complaining the belt was very tight on her hips, she almost wanted to give up!
I told her that would make no sense with only one hour to go, but I could give her a Challenge. If she would wear clover clamps for 30 minutes, I would end her Chastity Deal after that. It would save her half an hour! I didn't expect her to take the Challenge, but she did. Maybe she forgot how much these clamps hurt? The rule was she couldn't take them off once she had started, so Polina was now going to try and endure 30 minutes with clover clamps! She cried. And she cried.
But she made it! Polina is one of the greatest Chastity Babes I have ever met. She is incredibly funny, tiny, and gorgeous, but above all: she is suffers beautifully!!