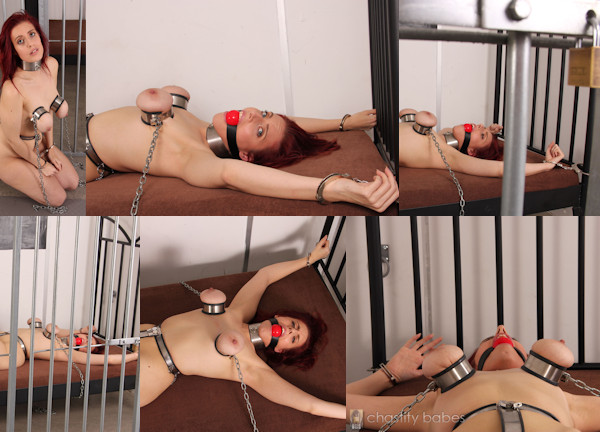 Remember the beautiful Arabella who got locked in custom made boob bands? They were impossible to remove, because they were tight and locked. I did record a super Challenge with her too, she was to spend at least 4 hours in prison, without knowing any of the other conditions, she was only told it was going to be high security.
Arabella felt her current gear was already high security: tight chastity belt, tall collar, and those custom locking boob bands. But soon she found there was more stuff that was going to be added. She was handcuffed, ankle cuffed, and two chains were attached to her boob bands. She was now a pet I could lead around by pulling on her boobs. A HUGE ballgag was strapped into her mouth, with a very broad strap holding her mouth wide open.
Arabella was starting to regret her Challenge a bit, but she did not want to give up. I spread eagled her to the bed. With two pairs of handcuffs, and two pairs of leg irons, she could barely move. I then locked the boob band chains to the sides of the bed. This restrained her even more. She was now lying on her back, unable to move at all! Her own boobs were anchoring her in place. She couldn't turn left or right.
Now for the Challenge part: I was going to leave her there for 4 hours! Arabella thought it would be easy, as she was lying down and comfortable, although very restricted. But when I turned off the lights and really left she started to have doubts. It was very hard with the chains pulling on her tightly locked boobs and her jaw was aching from the huge gag. Still, she managed to take some short naps, or at least doze off a few times.
When I came back, she was very dazed and confused, and it took her a while to get back to the real world. What an experience, I don't think I ever chained anyone's boobs to the bed like this, it was so awesome! Arabella is a trooper, I can't wait till she comes back for more Challenges!!