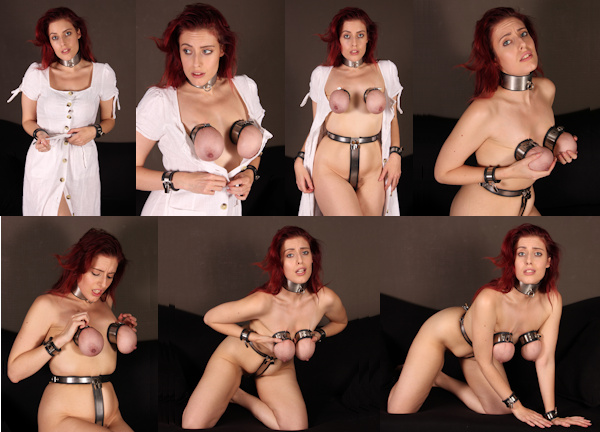 Please welcome Arabella to ChastityBabes.com! This British girl is pretty kinky and she has a perfect body for metal bondage! She came to this Casting, not knowing I had made a very special set of restraints for her: locking boob bands!
Now this doesn't work on all Chastity Babes, that is one of the reaons I like Arabella so much. Her boobs are perfect, they can be locked up in metal and she is unable to take off these restraints without the keys.
They are the best looking boob bands I have ever used, very wide and sturdy, with neoprene padding of course. The problem is, Arabella had agreed to do a Casting in a chastity belt. When I locked her in a collar and wrist cuffs, she did not mind very much, even though that wasn't really mentioned in our emails. But the boob bands… Arabella thought I was joking. She also thought she could take them off.
But these boob bands are tight! They have to be, otherwise they wouldn't work. But Arabella was able to deal with them. She agreed to do a picture set to show the metal under her dress, and it was very nice to see her strip out of her dress to reveal the steel restraints. After a while I just left (pretending to get something), leaving the video camera running. Arabella was very confused. At first, she tried to slip off the boob bands, but when she found out she couldn't (and I wasn't coming back), she wandered the studio trying to find me.
Sure, that was a little mean, but I wanted her to spend some more time with her boobs locked up, to get used to these restraints I made for her. Arabella definitely needs to come back for a Chastity Deal. And yes, her boobs will be locked for the entire Deal. That is how much I like the look of them!!